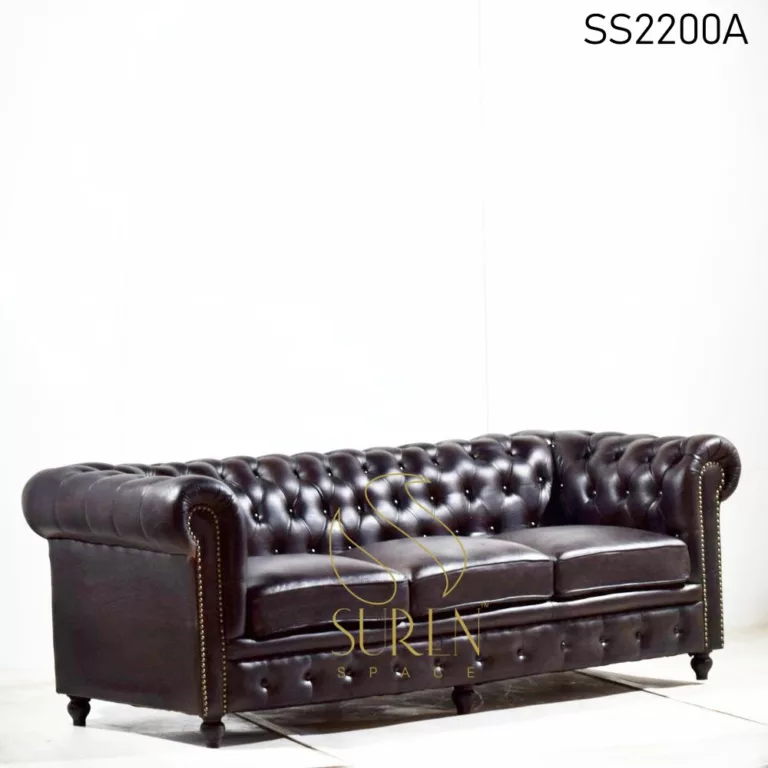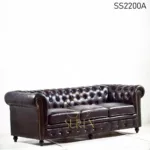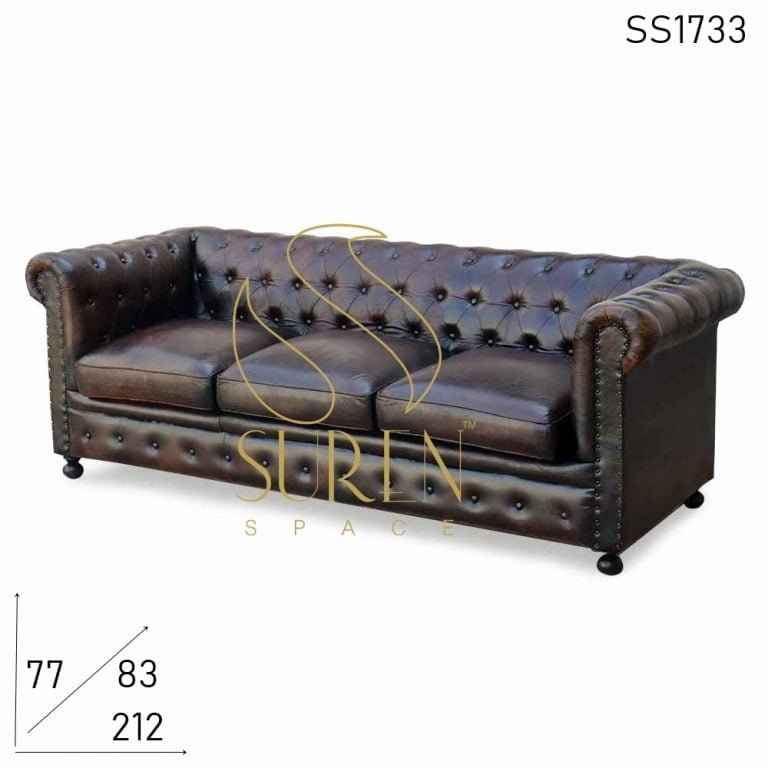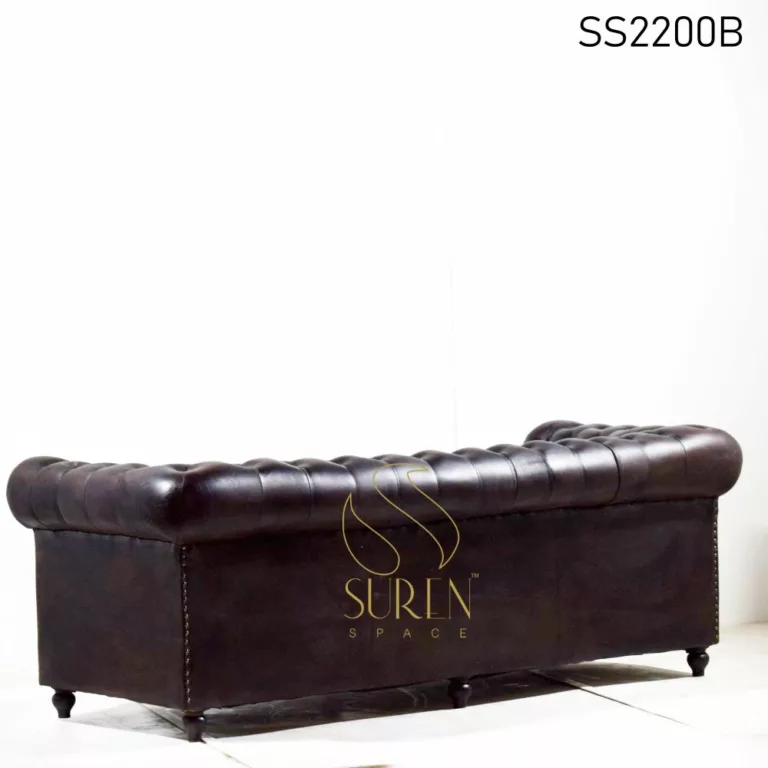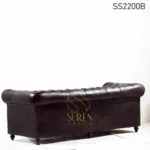 Tufted Evergreen Chesterfield Hotel Lobby Sofa Design
Elevate Your Hotel With Evergreen Chesterfield Hotel Lobby Sofa Design by Suren Space
When it comes to creating a warm and luxurious environment in your hotel lobby, the selection of sofa design can transform the space. At Suren Space, we understand the fundamental role that well-crafted lobby furniture plays, and we take satisfaction in offering our premier "Evergreen Chesterfield Hotel Lobby Sofa Design." This masterpiece is specifically designed to enhance your hotel's lobby seating experience and create a lasting impression on your guests.
Hotel Sofa Design: Bringing Together Style and Comfort
Our collection of hotel sofa designs is expertly selected to bring the perfect symmetry of elegance and reassurance. We know that your lobby is often the main point of reference for your guests, and our 'Evergreen' sofa design is a key element to creating a unique experience. When guests step into your hotel lobby, their first impression can determine their whole experience. The environment, the comfort, and the overall design of the lobby have an important role in shaping their opinion. This is where our "Evergreen Chesterfield Hotel Lobby Sofa Design" comes into the picture. It's not just a part of furniture; it's a practical and sophisticated statement. This iconic design is motivated by the classic Chesterfield style, distinguished by its plunging button tufting, balled arms, and nailhead trim. It's a style that never goes out of style and brings classic charm to any space. The "Evergreen" design takes this classic style and improves it with modern design, culminating in a sofa that's not only stylish but also supremely relaxing.
Craftsmanship that Describes Excellence
At Suren Space, we take tremendous satisfaction in the quality and craftsmanship of our products. Our lobby seating choices, including the "Evergreen Chesterfield," are skillfully designed to deliver unmatched convenience and strength. Each piece is a work of art, prepared by experienced experts through scrutiny, guaranteeing that it satisfies and transcends the most eloquent industry benchmarks. Our allegiance to quality rises to the materials we utilize. The "Evergreen" sofa is built with a solid wooden frame that delivers unparalleled resilience. The cushioning is designed to be luxurious and resilient, delivering your guests a comfortable and inviting place to sit as they check in, wait for friends, or merely rest in the lobby.
Explore Our Extensive Range of Lobby Furniture
In addition to our iconic sofa design, we offer a diverse range of lobby furniture, including lobby beds, designed to create a memorable and comfortable stay for your guests. Our lobby bed designs, just like our sofas, add an extra layer of luxury to your hotel rooms. Lobby beds are a unique addition to your hotel room offerings. They deliver a fortunate and stylish option for guests who require a comfy place to relax during the day or for enormous groups who choose to communicate in a common area. Our lobby bed designs are carefully crafted to complement the overall interior design of your hotel, offering a suitable and elegantly pleasant atmosphere for your guests.
Your Trusted Hotel Sofa Design Manufacturers
Suren Space is India's leading hotel sofa design manufacturer, renowned for its commitment to quality and style. We're more than manufacturers; we are allies in improving your hotel's environment. Whatever your needs are, whether you're looking for manufacturers, suppliers, or wholesalers, we offer affordable furniture choices. Excellence goes beyond exquisite furniture; it's also about delivering excellent customer service. We work together with our clients to recognize their necessities, guaranteeing that the furniture we deliver works with their ideas for the ideal hotel lobby.
The Suren Space Advantage
Unparalleled comfort:

Our hotel sofas are excellently designed to deliver superior comfort, guaranteeing that your guests have a delightful lobby seating experience.

Timeless elegance:

Our Chesterfield design percolates a timeless style and sophistication, making it an excellent fit for your hotel lobby. It's a style that surpasses trends and continues to be a symbol of refined taste.

Precision craftsmanship:

We prioritize quality craftsmanship, ensuring that our furniture lasts for years and retains its exquisite appearance. When you invest in Suren Space, you're investing in enduring quality.

Reliable partner:

Suren Space is one of the most trustworthy manufacturers, suppliers, and wholesalers of evergreen sofa design. We have a collection of high-quality furniture catering to different groups.
Get in touch with Suren Space to find an inspiring sofa design for a hotel. Furthermore, we have customization options, so you can find the furniture that matches your vision.
| | |
| --- | --- |
| Dimensions | 212 × 83 × 77 cm |
Select the items you want to purchase on the product section of our website.
 EMAIL : You can write down codes of items you choose and then send it to us on design@surenspace.com .
ADD TO QUOTE : If you want to make it easier, simply tap the items you want to buy and then tap add to cart. Then press submit cart, your product information will be submitted to us.
WHATSAPP : You can also share the same design code over the whatsapp +91-63777-12297 on this phone no. or share the product picture.
As soon as we receive the details of your product cart, subsequently, we will provide you with all the information of products including the price.
a. For any domestic payments:
Any kind of internet banking like IMPS, RTGS or NEFT
Demand Drafts and Cheques
b.For any international Payments:
International Wire Transfer or TT Transfer
 Paypal [ for sample order ]