Furniture Manufacturer in India
Whether you want to decorate your home or your office, the furniture plays a very important role. Furniture forms an important part of home or décor or any interior. A well-furnished place instantly stands out. It doesn't only just helps in decorating a place but it creates a vibe of the place. Properly decorated places can attract people while bad furniture can repel them.
But do you think it is this easy to choose the right piece of furniture? Then, sorry to say but not. Various factors determine the ideal furniture for a place. The factors like price, quality, interior, purpose, utility, budget, etc. are vary vital to consider before deciding to buy even a single piece of furniture.  Feeling overwhelmed with so many details at once? Worry not! Today, in this blog we are going to help you that how can you choose the perfect piece of furniture for your place.
According to various surveys, good furniture at commercial places helps in increasing the productivity of people. If you are thinking of renovating your house, don't you think about furniture in the very first place. Suren Space understands your requirements very well. We are not just furniture manufacturers, but we are your furniture companions. Whether you are a typical homeowner or a businessman who wants to decorate his office, we have everything for you. From bar chairs to small tables, we have a wide range of collections that proffers everything for your every need.
'The Furniture' – where it comes from!
Let's begin from the beginning. Furniture is not just a piece of carved wood or metal that you use for comfort, storage, and decor. As bizarre as it may sound but your furniture shares a long piece of history as well. Your not so trivial furniture also has an interesting past, let's get to know about it.
Furniture is used for convenience as well as a piece of decoration, the same trend was followed in the past as well. Initially, people used tree branches and stumps to keep their stuff. This was the beginning of the concept of furniture and furniture manufacturers. Scientists say that around 30,000 years ago, humans started carving furniture pieces from stone and wood along with other available substances and materials. The first furniture remnants are found from Russia like Venus Figurine heading to then Skara Brae in Scotland to ancient Egypt.
Similar to the Venus Figurine, a piece of the statue has been found from 6000 BCE to 5500 BCE around. Ancient Greece also has a lot of proofs that ensure that people used to carve furniture pieces for so long.
In today's world, furniture has taken a different aspect. Suren Space understands all the trends of furniture and the requirements of the people associated with it. We are leading furniture manufacturers of Jodhpur. We are known for our unique and opulence designs.
All the furniture manufactured in Suren Space is manually crafted which adds a personal touch to it. we trust in carving emotions in the wood. Jodhpur is known for its rich heritage and we also add this to our furniture styles. All our pieces are rich and antique-looking but we also add the magic of modern times along with comfort.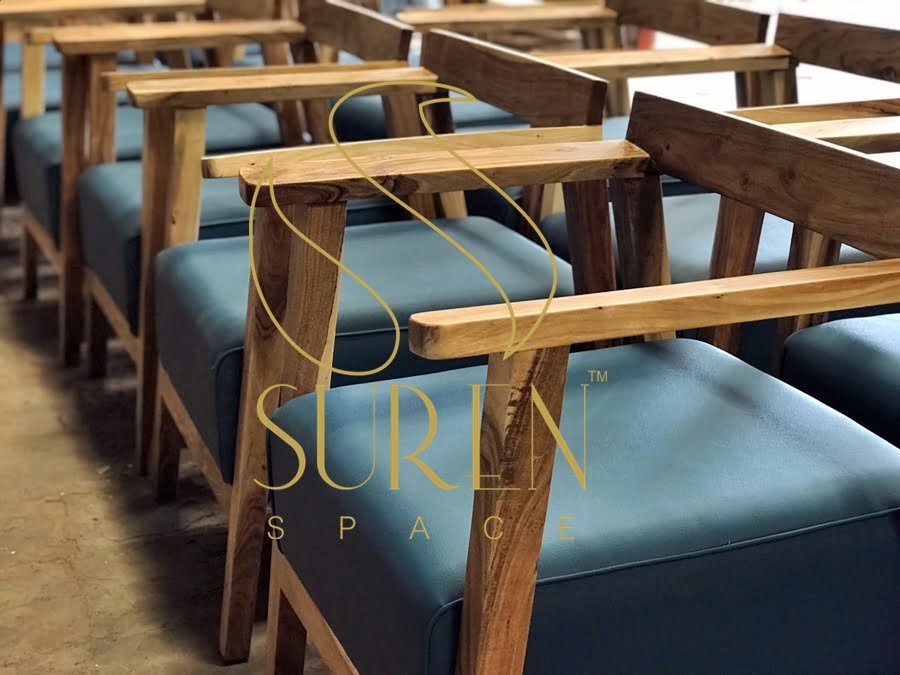 The furniture has many types based on its utility, design, structure, and material. For choosing the right furniture, you should be clear about these things. The furniture manufacturer builds different furniture pieces like tables, chairs, lamps, etc. according to different utilities. Similarly, the designer also provides various alternatives that can fit with the décor and interior of your place.
How your furniture has born?
Have you ever wondered how the beautiful shining table of your living area has been made? Or the chair that you have been using for years, how it came in existence just from mere wood? There is a long process and enormous hard work behind every furniture piece. Many people work on a single furniture piece to make it a masterpiece of your place. From wood selection to carving, many craftsmen put their heart and soul into making a single chair or table. Let's dive into the enticing work of furniture manufacturing where magic is entwined in wood. The process of furniture manufacturing begin as;
Choose the right wood from the woods
It is one of the early and primary steps in the long process of wood manufacturing. There is various kind of wood types available in the production market. But the selection of the wood is done entirely based on the use and utility of the furniture piece. There are plenty of wood options like oak, teak, mahogany, aish, etc.
The manufacturer chooses the right kind of wood that fits with the purpose and nature of the furniture utilization. If we are intended to make large and heavy furniture like tables and bedframes then, durability and sturdiness are the two main factors to be considered. For such heavy furniture pieces, wood options like mahogany, oak, teak, etc. are suitable. These wood types fall under hardwoods and these are mainly used for heavy furniture manufacturing. While for making decorative furniture like cabinets and drawers lighter wooden material is considered. Softwood like aish, birch, fir, etc. is considered best for this purpose.
Transformation of wood
After choosing the type of wood, the next step is to cut it into use-compatible pieces. The large raw wood material is cut down into smaller pieces called timber. Then, further, the timber is used for making the furniture. Timber formation is a kiln-dried process. Here, a few scientific phenomena also come into play. The timber needs to maintain a fixed amount of moisture content, this is described by equilibrium moisture content [ EMC]. This process of moisture maintenance is mostly done in a sawmill that takes from 2 to 4 weeks to complete.
Further, this timber is used to make your furniture.
Cutting the wood
Now as the timber has been prepared, this is sent for further process. The timber is treated under several machines and mechanisms to make it in the right state. Various sections of the wood are split and cut down to make the desired shape. A rotating knife of high speed is used to carve it in the right proportion as needed for the furniture pieces.
Several steps like veneering, sanding, staining and painting are done for making exact furniture design. After that next steps like doweling, dovetailing, and tenoning are done. Tenoning is the process in which the joining of different pieces of wood is done mostly at a 90-degree angle.
Assembling the wood
This step can be considered the final process for creating the structure of the furniture piece. The basic framework of the furniture is prepared in this step. Different pieces are glued and joined together. Clamps are applied to required positions of the wood. After that, the edges of the furniture are shaped along with sanding of the wooden surface. The sanding makes sure that there are no splinters and the wooden surface is smooth and safe.
The cleaning is done to remove any excess glue left on the furniture piece. After that, the process of hand sanding is done which is further continued along with staining and polishing. This helps in creating the final glimpse of the physical appearance of the furniture.
In the final steps, all the parts are polished and painted as needed and the finishing is done. So much is done to make a single furniture piece of your place. All the process takes time and efforts to present the best possible results. The carving and the design are done with utmost carefulness and in a detailed manner. The process of manufacturing is done after the process of designing. This means the designs are created first and then the manufacturing process begins.
Understanding the Material of your furniture pieces
Various materials are used for creating furniture that fits different purposes. As we mentioned about various materials to construct the furniture let's see two broad classifications of the materials used for building the furniture. There are only five or six materials that are found sturdy and ideal for general use along with providing comfort. Suppliers and furniture manufacturers build furniture in metal, in iron mostly, in solid wood, etc.
Furniture pieces that are built-in metal are considered strong and sturdy. They are heavy-duty and can be used in almost every setting. Because of their sleek look and long-lasting nature, they have come out as many buyers' first choice. Furniture pieces that are built-in metal are also a good option for pubs, bars, brewery, lounge, nightclub, etc. because they are not easily damaged and last prolong. Bar chairs, pub chairs, brewery chairs, desks, tables, etc. built-in iron are most efficient for hotels and resorts.
Furniture pieces that are built-in solid wood are most suitable for outdoor settings. The composition of their structure in solid wood makes them easier to carry and move. Using furniture that is built-in metal for outdoor settings can cause the issue of rusting and corrosion due to the oxidation process occurring in iron. But the furniture pieces that are carved in solid woods don't show such problems. Funiture pieces especially that are used for seating purposes should be in upholstery or leather, it makes them more comfortable.
Styling and Designing process of the furniture
Your furniture should be aesthetic and pleasant looking, and we understand that need to make your place beautiful looking. That's why at Suren Space, our designers specifically plan and undergo a streamlined process of designing and creating a beautiful design.
This process involves;
Styling and construction
There are two tactics of making a furniture entity named constructional styling and stylization. When the constructional styling approach is taken, the furniture is prepared in such a way that the construction process and different parts of it can be identified easily. While the styling approach is the process in which the furniture is made to look like a single unit production without any joining of different pieces.
Constructive styling can be seen in bamboo or wickerwork, stick-back, and tubular steel chairs. If we see the typical styles then, in ancient times the Chinese furniture is made in stylization way while the greek furniture named klismos is made through constructional styling. Egyptian furniture emphasizes the fine joints of the furniture.
Decorative tactics
Whether the constructional tactics are emphasized to enhance the look of the furniture pieces or not. But there are a few techniques that are used for decorating a furniture piece to its best value. These two techniques are;
The various designs are cut down and created on the surface of the wood. If we talk about the origins of carving, then it was mainly started in Egyptian culture. Jodhpur itself is known for its amazing carving heritage. Craftsmen of Suren Space are highly skilled in their carving talents from local folk designs to international designs.
It is the process in which the furniture parts like legs, back support, etc. are subjected to shaping while it gets turned on a lathe. This was mainly found in Greco-Roman furniture.
Suren Space has adapted to the different working tactics and processes of the furniture manufacturing process. From international standard designs to rich folk heritage, we integrate all at one place in our work.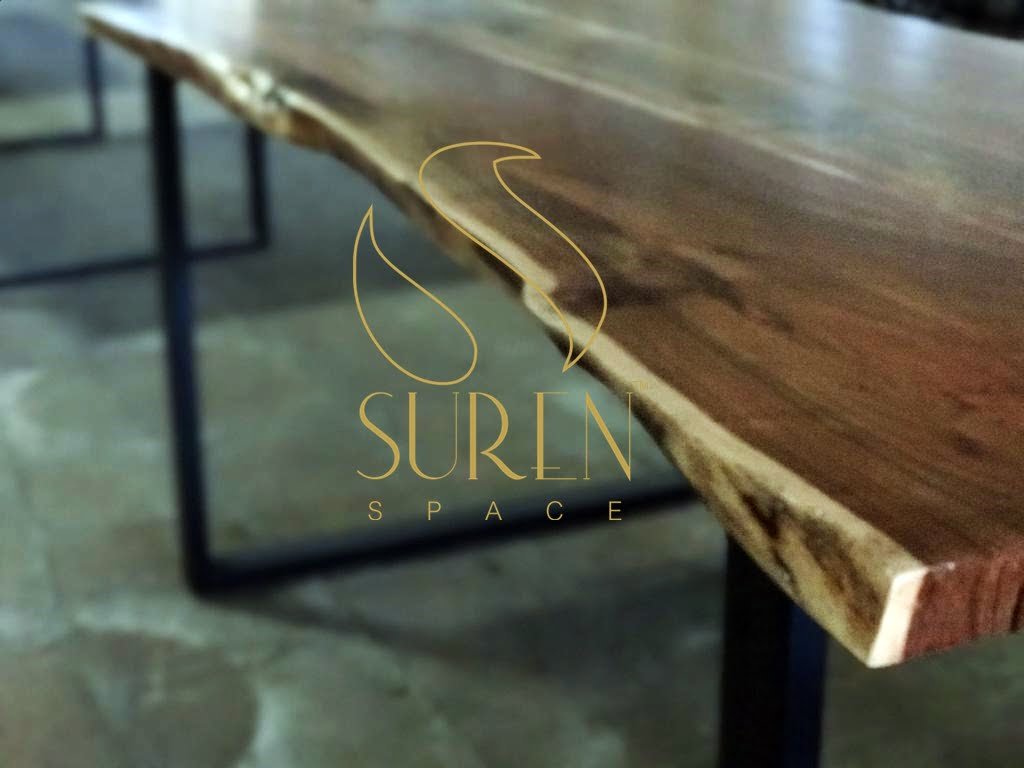 How to choose a perfect furniture piece?
Now you know about the types and frame materials of every possible furniture piece in existence. Till now you would have gotten some idea that how you will choose the right furniture for you.
Check the size
Any furniture piece whether it's a table or a chair they come in various forms and sizes. In a way, we can say that your furniture design is dynamic while its surroundings are static. So it is very important to calculate the right size of the furniture pieces that you want to place in your surroundings.
Match the vibe
Various suppliers offer a wide range of designer furniture pieces. You may feel overwhelmed with so many options and maybe you get to like more than one option for your furniture. This happens with many buyers. Let's guide you a bit here.
When you are viewing your options of various designer furniture, don't forget to take remark of your interior. While choosing the design, try to picture the furniture piece in your mind in the respective area. This will help you to get an idea of how the real-time appearance of that furniture will look.
Be picky for material
Yes! Be picky when it comes to deciding the material for the frame of your furniture. You don't want the issue of wear and tear, or broken furniture of course. So when you are choosing your furniture piece among all the available options of beautiful designer pieces, consider the material in your priority list. After all, you don't want to buy furniture that doesn't last long. There are various options that you can consider, furniture built-in metal, sandalwood, etc.
Whether you are thinking of buying bar chairs, beds, tables, etc. for your personal space or putting them in commercial space, durability is a must.
Weight and price
When you are buying a furniture piece, don't forget to check the weight once. believe it or not, there will be many occasions where you will need to move the furniture more often you think. Maybe you want to change the setup or maybe you would want to clean the place properly. In such cases, taking a heavy table or chair wouldn't be in your favor. Especially for hotels, for resorts, for nightclubs and pubs, it is advisable because they need more frequent movements of their furniture for cleaning or a special event.
Many manufacturers and suppliers keep the note of making the furniture sturdy as well as light. From India, many types of furniture pieces made up of the best quality material are exported.
Next comes pricing. Everyone wants to buy the best quality products at a cheaper price, but is it practical? Not! Never compromise on quality for the price. But also don't pay uselessly high amounts for average products. Make a deal at a reasonable price. Suren space is famous to provide top-quality products at feasible prices. They also export to other places from Jodhpur.
Find your match!
We have heard people saying that the first impression is the last impression which is also true to some extent. So we are here to help you in choosing the perfect design for your furniture. Accept it or not but many people fail to get a good design that goes well with their interiors even after putting a lot of thought.
There are various designs that you be distinguished and then choose according to the effect of other factors. Here, we are describing a few versatile designs of furniture pieces.
This beautifully crafted bedroom side table is what you need to create a vintage cottage core vibe in your room. It is built-in solid wood which provides a beautiful finish and looks. It is available in three different colors to like your requirements. It provides a good amount of space for storage.
Are you a fan of ancient vibes? Then yes our antique reproduction carved console table is for you. This ancient and historical-looking table is strong and sturdy to be your companion for years. It created antique vibes to make your interiors look unique and creative. The best part is, it is spacious and long making itself fit for many purposes and uses.
Giving you perfect bohemian vibes, this coffee table is perfect to create a corner where you can rest your soul and recharge. It comes in two shades which makes it suitable for your different interiors. It is spacious as well as eye-catching. It adds vibrance to the place. It promises heavy-duty serving along with aesthetics.
The black finishing provides a perfect exporter look to this bar chair. The built-in solid wood frame gives it extra vibrance. It is perfect for hotels, resorts, nightclubs, etc. with its evergreen trendy design. Its sleek palmated pipes provide a good finishing that strikes straight to your aesthetics. The evergreen design ensures to use it for long years without thinking of renovation.
Tight on space? Then try this compact-sized pub chair that provides the best value for money. Its compact design structure provides comfort while not taking much space. The metal frame along with wooden back support and seat stand provides a versatile appearance to it. The sleek and small wooden back support adds more comfort as well as modern style to this piece of furniture.
A perfect mix of great looks with strong built-up in metal! This designer brewery chair has a leather covering which is inspired by old nobilities. The distressed design provides it a casual finish with a unique look. The metal frame makes it good for any unfavorable situation that you can throw upon this brewery chair. The heavy leathering adds comfort while giving it a hard look. You can pair it up with various interiors to get fascinating results.
Long words in short
No matter what is the place or occasion, but good furniture is a must to decorate and create a desiring vibe. The furniture plays a very important role in the décor but many people tend to forget this fact. Various furniture pieces play various roles in our day-to-day life. You need a desk to do your office work, a chair is needed to sit comfortably and boost your productivity while a  bed is needed to take proper rest, you need a locker or cupboard to store your documents as well as your personals stuff and many more. So it is very important to give a proper thought before buying a piece of furniture. Manufacturers provide various collections and designs to cater to your needs. Suren Space has a large range of various furniture pieces along with high quality and eye-striking designs. We are one of the best leading furniture manufacturers from Jodhpur. From antique designs to modern utility furniture, we present a wide range for your taste.
The process of furniture manufacturing is complicated. There are various steps, materials, devices, etc. are incorporated in manufacturing a single piece of furniture. This complication can also determine your choice of furniture. There are various options for a single utility furniture piece, you need to consider a lot of factors for choosing the right one.
With the above-mentioned tips and tricks, you can easily find your perfect match of furniture for your place. Whenever you are shopping for a furniture piece whether it's a table, chair, bed, etc. be mindful of the height, weight, size, material, quality, design, and of course your home décor. We can assure you that after going through this article, you have all the required tools to choose a perfect furniture match for you. Explore our options and find your best furniture match!